→
→
→
Ladakh & Kashmir Tour(09 Nights / 10 Days)
Ladakh & Kashmir Tour(09 Nights / 10 Days)
2N

Leh ,

1N

Nubra Valley ,

1N

Leh ,

1N

Pangong ,

1N

Leh ,

1N

Sham Valley ,

1N

Kargil and

2N

Srinagar Houseboat
What's Included
Car Details
Road transport from Leh - Non AC SUV
Hotel Details
Hotel options available in the package
| Destination | Nights | Hotel and Room | Meals |
| --- | --- | --- | --- |
| Leh | 2 night(s) | Standard Room | Room only |
| Nubra Valley | 1 night(s) | Standard Room | Room only |
| Leh | 1 night(s) | Standard Room | Room only |
| Pangong | 1 night(s) | Standard Room | Room only |
| Leh | 1 night(s) | Standard Room | Room only |
| Sham Valley | 1 night(s) | Standard Room | Room only |
| Kargil | 1 night(s) | Standard Room | Room only |
| Srinagar Houseboat | 2 night(s) | Standard Room | Room only |
Sightseeing and Transfers
Other inclusions available in the package
Select Departure Airport:
Prices shown include two way flights, stay and all taxes
* Prices mentioned are for per person on twin sharing basis (minimum 2 people staying together)
Day Wise Itinerary
Package Which will cover Major Places like Leh, Monasteries, Nubra Valley, Pangong Lake Kargil, Sonmarg, Srinagar& Gulmarg
Here is how you will spend your time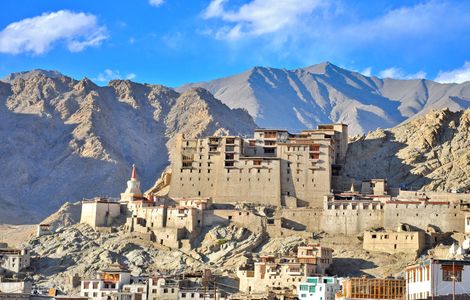 Day 1: Arrive Leh
Arrival Leh Kushok Bakula Airport (This must be one of the Most Sensational Flights in The World. On a clear day from one side of the aircraft can be seen in the distance the peaks of K2, Nanga Parbat, Gasherbrum and on the other side of the aircraft, so close that you feel you could reach out and touch it, is the Nun Kun massif.) Upon arrival you will met by our representative and transfer to Hotel for Check in. Complete day for rest and leisure to acclimatize followed by Welcome tea or Coffee at the Hotel.
Evening Visit to LehPalace,Shanti Stupa & Leh Market.Dinner & Overnight at Hotel.
Things to see and do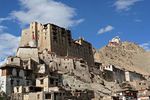 Situated on one side of the dry, dusty Namgyal (Tsemo) hill, Leh Royal Palace was built by one of the greatest monarch to have reigned over Leh, Sengge Namgyal. While ...
$ 0 Average Cost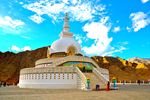 Shanti Stupa is situated on a hilltop in Chanspa, Leh district, Ladakh, in the north Indian state of Jammu and Kashmir. Shanti Stupa as know Buddhist white-domed stupa. It was...
Day 2: Leh (Excursion To Monasteries)
Post breakfast we visit Spituk Monastery, Built in 15th century during the reign of Grags 'bum-lde, these new Gelug-pa monastery was built like fortress on the summit of crags and also visit Hall Of Fame near Leh is worth a visit for every citizen. It is a glorious museum constructed by Indian army.
Post lunch we take a sightseeing tour visiting Sankar Gompa, located at a distance of approximately 3 km from the town of Leh, Leh Palace is one of the most captivating architectural ruins that attract the attention of the tourists almost immediately with its majestic setting at the edge of the Namgyal hill and overlooking the town and at once looks like a reminiscent of Lhasa's Potala Palace.
Things to see and do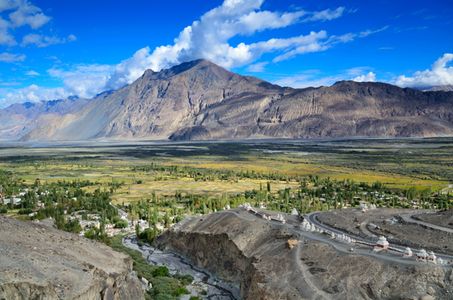 Day 3: Leh–nubra Valley Via Khardung La 18,390 Ft. (120 Kms / 4 – 5 Hrs)
Post breakfast we drive to Nubra Valley. The road journey from Leh to Nubra Valley passes over Khardung La (The Highest Motorable Road In The World) at 5,602 Mtrs / 18,390 Ft, around 39 km from Leh. From the pass, one can see all the way south over the Indus valley to seemingly endless peaks and ridges of the Zanskar range, and north to the giants of the Saser massif. Nubra Valley is popularly known as Ldumra or the valley of flowers. It is situated in the north of Ladakh between the Karakoram and Ladakh ranges of the Himalayas. The average altitude of the valley is 10,000 Ft. above sea level.
Upon arrival in Nubra we check in at our Camp / Hotel in Hunder for Overnight stay. In the evening you can walk around the tiny villages to see how the locals live in this part of the world. A visit to a Ladakhi home can be arranged. Dinner and overnight at the Camp.
Things to see and do
Gateway to the Nubra Valley, Khardungla Pass is located at a height of 5,359 meters and is the highest motorable pass in India. Opened in 1988, Khardungla Pass is a Mecca for ...
$ 0 Average Cost

The meeting point of the Indus and Zanskar rivers near Leh is a sight to behold. Flowing through a deep gorge past the town of Leh, the Indus River meets the Zanskar, about 12...
Travel from Leh to Nubra Valley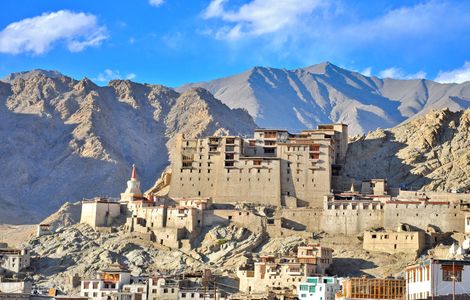 Day 4: Nubra Valley – Leh (120 Kms / 4 – 5 Hrs)
After an early breakfast we check out from the Camp and drive to Hunder where you have opportunity to ride on a bacterian camel (double humped) amidst the sand dunes of this high altitude desert with snow capped mountains on the horizon. Between Hunder and Diskit you come across sand dunes besides the road. Seen in isolation you could well be amongst the sand dunes of the Thar Desert in Rajasthan. It is indeed a strange sight since immediately on the left of the road are rocky mountains that characterize the Ladakhi landscape and in the distance can be seen snow-capped mountains. On the return stop at Diskit which is the headquarter town of Nubra Valley. Stroll around the bazaar observing the shops and local people going about their daily chores. Diskit is famous for 515 years old Buddhist Monastery, lying magnificently situated on a hilltop, facing the entire Valley.
Later we drive back to Leh in the late afternoon via Khardungla Top. On arrival at Leh you will check in to your Hotel. In the afternoon you can rest and relax.
Things to see and do
Diskit in Ladakh region of Jammu and Kashmir is famous for its 14th century monastery, believed to be the largest and oldest monastery in Nubra valley. Diskit is situated at ...

Khardung La (Khardung Pass, la means pass in Tibetan) is a high mountain pass located in Ladakh region of the Indian state of Jammu and Kashmir.The pass on the Ladakh Range ...
Travel from Nubra Valley to Leh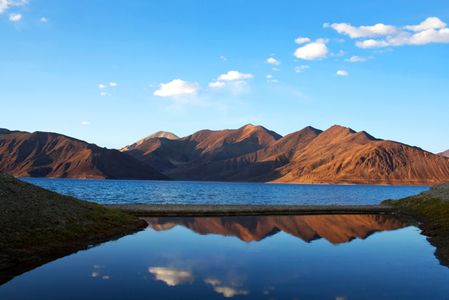 Day 5: Leh To Pangong Lake (140 Kms / 4 - 5 Hrs – One Way)
After an early breakfast we leave for Pangong Lake enroute visiting Shey Palace, The ancient capital of Ladakh &3 Idiots Rancho School & further 5 Kms Driving through a picturesque landscape we reach Thiksey an impressive complex rising tier upon tier on a hill above the village. After visiting above two monasteries we drive further towards Changla Pass 5486 Mtrs. The long easy ascent takes you to Changla pass through its winding roads passing through Sakti Village. Stop at the Changla Pass for a quick photograph session and drive down to the village of Tangtse, where you can relax for a cup of tea. Leaving Tangtse for Pangong you pass through few small villages of Changthang and finally you can have a sudden view of the Pangong lake situated at 14,000 feet (4,267 m). This famous blue brackish Lake of Pangong is 5/6 Kms wide and over 133 Kms long with half of its running the other side of the "Indo China Border". One rarely feels so close to nature and environment and the scenery is unforgettable. After the success of 3 Idiots, this beautiful natural location has attracted more tourists from all over the world. Upon arrival we check in at our Camp near Pangong lake. Dinner & Overnight at the Camp.
Things to see and do
Travel from Leh to Pangong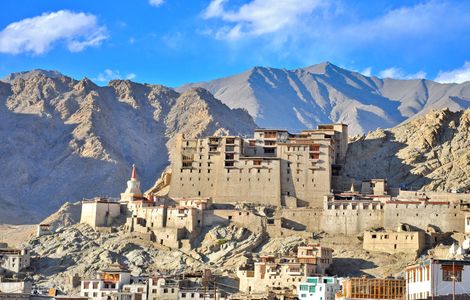 Day 6: Pangong Lake To Leh (140 Kms / 6 Hrs)
Morning at leisure to explore the beauty of lake and later we drive back to leh enroute visiting Hemis Gompa, the largest monastic foundation of Drukpa Kagyu Order of Tibetan Buddhism. Drive further to Leh and check in at our hotel for Overnight
In the evening you can stroll around the market place for some last minute souvenir shopping.
Things to see and do

Hemis Monastery is the biggest and the most important monastery in Ladakh. Hemis is located 49 km south from the town of Leh, a little off the Indus river road. Hemis Gompa ...
Travel from Pangong to Leh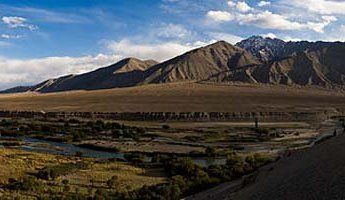 Day 7: Leh To Sham Valley (92 Kms / 4 Hrs)
After breakfast you drive downstream along the River Indus on Leh – Kargil Highway. Enroute visiting Gurudwara Patthar Sahib Nestled deep in the Himalayas, A drive of another 4 km took us to Magnetic Hill which defies the law of gravity & further Driving through a picturesque landscape we reached the Confluence Of The Indus And Zanskar River, Just before Saspul a road to the right takes you for your visit to the Likir Monastery, Likir is one of the most active monasteries in the region. As you drive up to the monastery a recently installed colossal gilded image of the Maitreya out in the open is one of the most impressive sights in Ladakh.
After visiting the Monastery you continue your drive along the River Indus to or Uletokpo or Tingmosgang enroute visiting
Ridzong Monastery, there is the option to walk up to the Monastery for those that wish to do so. Hidden at the end of a steep valley, the first view of the Monastery is dramatic. After visiting above places we drive further and check in at our camp / hotel for overnight stay.
Things to see and do
Travel from Leh to Sham Valley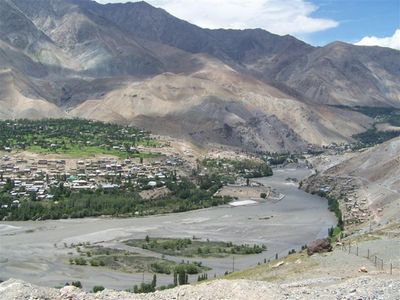 Day 8: Tingmosgang To Kargil (Via Lamayuru) 143 Kms / 5 Hrs
Post breakfast you drive to Kargil enroute visiting the 11th century Lamayuru Monastery enroute visiting the mesmerizing MOON LANDSCAPES (you will believe why the name of this area is Moonland. Exactly the same formations of Land are visible as on the moon), Later Drive to KARGIL over Fatu-la (13,489 ft) which is the highest pass on Srinagar – Leh road. Upon arrival in Kargil we check in at our Hotel for an overnight stay.
Things to see and do
Lamayuru monastery is the oldest and one of the largest monasteries in Ladakh region in Jammu and Kashmir.The monastery is famous for its rich wall paintings, collection of ...
Travel from Sham Valley to Kargil
Day 9: Kargil To Srinagar
After early Breakfast by 6.00 am drive to Srinagar passing through Drass, the second coldest inhabited Place on earth and you can have spectacular view of Kargil War famous Peaks Tiger Hill and Tololing Peak. Pay a tribute to Vijay Smarak, dedicated to Indian Soldiers who laid their lives for us during Kargil War in 1999. Arrive Srinagar by Afternoon. Rest of the time for own activities.Overnight at Houseboat.
Things to see and do
Tiger Hill or "Point 4660" is a mountain in the Drass-Kargil area of Jammu & Kashmir, India. It is one of the highest peaks in the area and was the subject of the famous ...
Travel from Kargil to Srinagar Houseboat
Day 10: Srinagar (Excursion To Shankracharya Temple & Mughal Gardens)
Post breakfast we take a sightseeing tour of Srinagar (Lake City) visiting Shankaracharya Temple&Mughal Gardens, Nishat Bagh (Garden of Pleasure) &Shalimar Bagh (Garden of Pleasure). Overnight at Houseboat.
Day 11: Depart Srinagar (Fly Out)
Tour concludes. Mountain Trails A & E Pvt. Ltd. thanks you for your patronage and ensures a punctual transfer to Domestic Airport to catch the flight for your onward Destination.
Hotels Included
Noble House (3 star)
Fort Road - 194101, Leh
Nubra Ethnic Camp (3 star)
Nubra Ethinic Camp, Village Hunder, Ladakh Leh Ladakh 194101, Nubra Valley
Noble House (3 star)
Fort Road - 194101, Leh
Camp Whispering Waves
Pangong Lake, Spangmik - 194101, Pangong
Noble House (3 star)
Fort Road - 194101, Leh
Namra Camp
Sham valley, Tingmosgang 1194101, India, Sham Valley
Hotel Siachen (3 star)
Main Bazar, 194103,, Kargil
Meena Houseboats (4 star)
Dal Lake, Opp Boulevard Hotel, Srinagar, Jammu and Kashmir 190001, Srinagar Houseboat
Cancellation Policy
The package once booked is refundable and cancellable.
Flight cancellation will be as per airline cancellation policy.
Date of booking to 30 days before travel the cancellation charges will be 10% of the tour cost
30 to 15 days before travel - cancellation charges will be 50% of the tour cost
15 to 7 days before travel - cancellation charges will be 75% of the tour cost
0 to 7 days before travel - cancellation charges will be 100% of the tour cost. No refund shall be given
Please note cancellation policy is subject to change. It depends on the hotel policy. In peak season, some hotels may charge 100% cancellation.
Additional Information
Check-in at hotel starts from 14:00 hrs.
Check-out time is until 12:00 hrs.
Early check-in or late check-out is subject to availability and may be chargeable by the hotel.
Once your payment has been processed, we will send you an email confirmation.
You will receive all travel vouchers required for your flights and accommodation shortly afterwards.