→
→
→
North Karnataka Heritage Tour
North Karnataka Heritage Tour
1N

Hampi and

1N

Bijapur
Last Booked 16 hours ago

What's Included
Car Details
Road transport from Bangalore - Non A/C
Hotel Details
Hotel options available in the package
| Destination | Nights | Hotel and Room | Meals |
| --- | --- | --- | --- |
| Hampi | 1 night(s) | Stay in camps/tents | Room only |
| Bijapur | 1 night(s) | Stay in camps/tents | Room only |
Select Departure Airport:
Prices shown include two way flights, stay and all taxes
* Prices mentioned are for per person on twin sharing basis (minimum 2 people staying together)
Day Wise Itinerary
The Heritage Sites of North Karnataka covering Tungabhadra Dam, Hampi, Banashankari Temple, Pattadakal, Bijapur and Kudala Sangama .
Here is how you will spend your time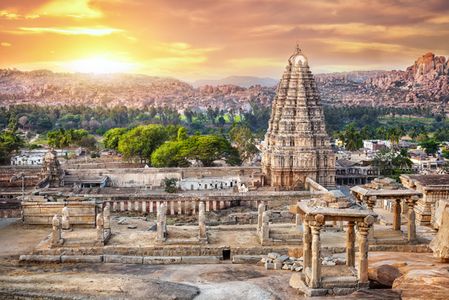 Day 1 : Arrival At Karnataka Hotels Hospet
Rest, Bath and Breakfast after that Hampi Sightseeing (Virupaksha Temple, Kadale Kalu Ganesha, Sasive Kalu Ganesha, Krishna Temple, Lakshmi Narasimha, Badavi Linga, Sister Stones, Underground Temple, Mint House, Lotus Mahal, Elephant Stables, Hazara Rama Temple, Palace Area, Mahanavami Dibba, Queen's Bath) Lunch at Karnataka Hotels Hampi and Visit Vijaya Vittala Temple (Stone Chariot), King's Balance, Purandara Mantapa, Old Bridge Pillars, Vijaya Vittala Temple Visit Tungabhadra Dam Garden & Musical Fountain and rest at Karnataka Hotels T B dam - night halt.
Things to see and do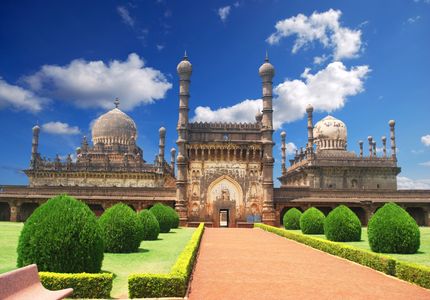 Day 2 : Departure To Badami
Breakfast at Kushtagi Visit Banashankari Temple and Badami Cave Temples . Lunch at Karnataka Hotels Badami . Visit Mahakuteshwara Temple, Mahakuta , Pattadakal Mallikarjuna, Virupaksha & other temples , Aihole Durgadagudi & other temples and Arrive at Bijapur & Halt .
Travel from Hampi to Bijapur
Day 3 : Bijapur (after Breakfast)
Visit Gol Gumbaz, Jamia Masjid, Ibrahim Roza, Big Cannon, Upari Burj, Bara Kaman Lunch at Almatti .Visit Kudalasangameshwara Temple & Basavanna Samadi , Anubhava Mantapa Dinner at Hospet and departure to Bangalore .Tour ends at Badami House, Bangalore
Things to see and do
Gol Gumbaz, the mausoleum of Muhammad Adil Shah (AD 1626 -56) located in Bijapur, District Bijapur, Karnataka State is an important monument of Indo-Islamic architecture aptly...
Terms
The package once booked is refundable and cancellable.
Flight cancellation will be as per airline cancellation policy.
Hotel cancellation will be Free before 15 days of check-in.
Cancellations or changes made 48 hours before arrival are subject to 1 night room charge and tax penalty.
Price shown includes all taxes and fees.
Additional Information
Check-in at hotel starts from 14:00 hrs.
Check-out time is until 12:00 hrs.
Early check-in or late check-out is subject to availability and may be chargeable by the hotel.
Once your payment has been processed, we will send you an email confirmation.
You will receive all travel vouchers required for your flights and accommodation shortly afterwards.