→
→
→
Road to Shambhala- Ex Chandigarh (09 Nights / 10 Days)
Road to Shambhala- Ex Chandigarh (09 Nights / 10 Days)
2N

Manali ,

1N

Sarchu ,

1N

Leh ,

1N

Nubra Valley and

3N

Leh

What's Included
Car Details
Road transport from Leh - Non AC SUV
Hotel Details
Hotel options available in the package
Destination
Nights
Hotel and Room
Meals
Manali
2 night(s)

Hotel Rishi Palace

Standard Room

Room only
Sarchu
1 night(s)

Adventure Camp Sarchu

Standard Room

Room only
Leh
1 night(s)

Noble House

Standard Room

Room only
Nubra Valley
1 night(s)

Nubra Ethnic Camp

Standard Room

Room only
Leh
3 night(s)

Noble House

Standard Room

Room only
Select Departure Airport:
Prices shown include two way flights, stay and all taxes
* Prices mentioned are for per person on twin sharing basis (minimum 2 people staying together)
Day Wise Itinerary
Package Which will cover Major Places Chandigarh, Manali, Sarchu, Leh, Monasteries, Pangong Lake, Khardungla Top, Nubra Valley & Sham Valley
Here is how you will spend your time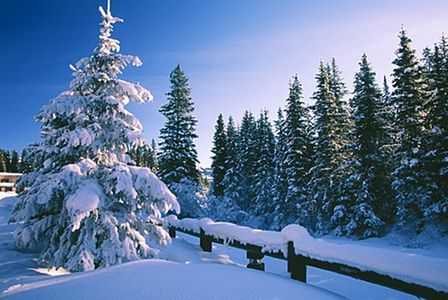 Day 1: Arrive Chandigarh (or Ambala)/ Manali (300 Kms / 9 Hrs )
Upon arrival at Amabala or Chandigarh Railway Station / Airport you'll met by our driver and drive to Manali. On arrival we check in at our pre arranged hotel for overnight stay.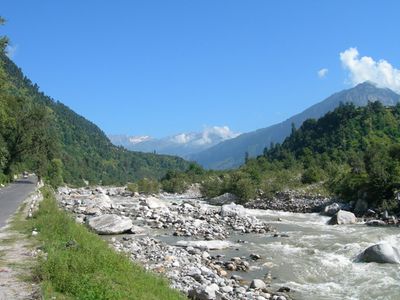 Day 2: In Manali
Post breakfast, half day tour visiting Naggar Castle, Roerich Art Gallery (closed on Mondays) and few old temples in Naggar village. Afternoon half day city tour visiting Hadimba Devi Temple, Manu Temple, Tibetan Monastery and Vashisht Village.Evening free to explore Manali market.Overnight at hotel.
Day 3: Manali To Sarchu (222 Kms)
Today we start our journey to Leh Stopping at Sarchu for a night. Today we cross Rohtang Pass (3978 m), Keylong (3350 m), Baralacha Pass (4890m) with overnight stopover at Sarchu (4253 m), border of the states of Himachal Pradesh (Lahaul) and Jammu & Kashmir (Ladakh). Upon arrival in Sarchu, we check in at our tented campsite for overnight stay
Things to see and do
Rohtang Pass is a high mountain pass on the eastern Pir Panjal Range of the Himalayas around 51 km from Manali. It connects the Kullu Valley with the Lahaul and Spiti Valleys...
Travel from Manali to Sarchu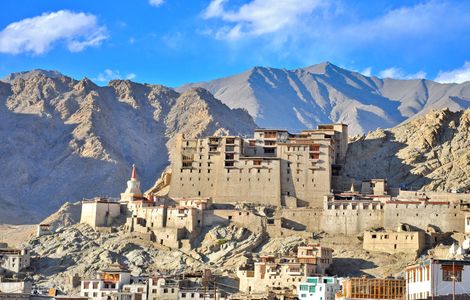 Day 4: Sarchu To Leh (255 Kms)
Leave for Leh by early morning, through Nakeela and Lachangla Pass 16,617 ft. Lunch at Pang. After Lunch drive to Leh passing through Skyangchu Thang (Biggest and Highest Plateau on Earth on Stretch of 42 Kms), Tanglang La Pass 17,585ft and Indus Valley. Upon arrival in leh you'll met by our representative and check in at our Hotel
Things to see and do
Taglang La, elevation 5,328 metres (17,480 ft), is a high mountain pass in Ladakh region of the Indian state of Jammu and Kashmir. The elevation in metres, which is taken ...
Travel from Sarchu to Leh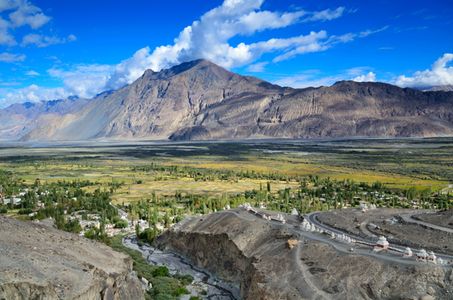 Day 5: Leh–nubra Valley Via Khardung La 18,390 Ft. (120 Kms / 4 – 5 Hrs)
Post breakfast, we drive to Nubra Valley. The road journey from Leh to Nubra Valley passes over Khardung La (The Highest Motorable Road In The World) at 5,602 Mtrs / 18,390 Ft, around 39 km from Leh. From the pass, one can see all the way south over the Indus valley to seemingly endless peaks and ridges of the Zanskar range, and north to the giants of the Saser massif. Nubra Valley is popularly known as Ldumra or the valley of flowers. It is situated in the north of Ladakh between the Karakoram and Ladakh ranges of the Himalayas. The average altitude of the valley is 10,000 Ft. above sea level.
Upon arrival in Nubra we check in at our Camp / Hotel in Hunder for Overnight stay. In the evening, you can walk around the tiny villages to see how the locals live in this part of the world. A visit to a Ladakhi home can be arranged. Dinner and overnight at the Camp.
Things to see and do
Gateway to the Nubra Valley, Khardungla Pass is located at a height of 5,359 meters and is the highest motorable pass in India. Opened in 1988, Khardungla Pass is a Mecca for ...
$ 0 Average Cost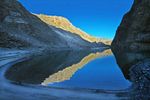 Zanskar valley is considered as one of the most adventurous and a fascinating one. Zanskar can be reached by r oad and by trek in summer. If you go by road, it takes two ...
Travel from Leh to Nubra Valley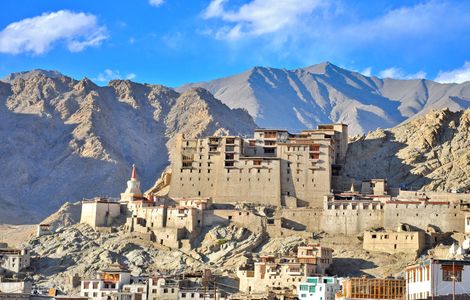 Day 6: Nubra Valley – Leh (120 Kms / 4 – 5 Hrs)
After an early breakfast, we check out from the Camp and drive to Hunder where you have opportunity to ride on a bacterian camel (double humped) amidst the sand dunes of this high altitude desert with snow capped mountains on the horizon. Between Hunder and Diskit you come across sand dunes besides the road. Seen in isolation you could well be amongst the sand dunes of the Thar Desert in Rajasthan. It is indeed a strange sight since immediately on the left of the road are rocky mountains that characterize the Ladakhi landscape and in the distance can be seen snow-capped mountains. On the return stop at Diskit which is the headquarter town of Nubra Valley. Stroll around the bazaar observing the shops and local people going about their daily chores. Diskit is famous for 515 years old Buddhist Monastery, lying magnificently situated on a hilltop, facing the entire Valley.
Later we drive back to Leh in the late afternoon via Khardung la Top. On arrival at Leh you will check in to your Hotel. In the afternoon you can rest and relax.
Things to see and do
Diskit in Ladakh region of Jammu and Kashmir is famous for its 14th century monastery, believed to be the largest and oldest monastery in Nubra valley. Diskit is situated at ...

Khardung La (Khardung Pass, la means pass in Tibetan) is a high mountain pass located in Ladakh region of the Indian state of Jammu and Kashmir.The pass on the Ladakh Range ...
Travel from Nubra Valley to Leh
Hotels Included
Hotel Rishi Palace (3 star)
Jagatsukh, Manali, Kullu District, Jagatsukh - 175101, Manali
Adventure Camp Sarchu
Highway Leh-Manali -, Sarchu
Noble House (3 star)
Fort Road - 194101, Leh
Nubra Ethnic Camp (3 star)
Nubra Ethinic Camp, Village Hunder, Ladakh Leh Ladakh 194101, Nubra Valley
Noble House (3 star)
Fort Road - 194101, Leh
Terms
The package once booked is refundable and cancellable.
Flight cancellation will be as per airline cancellation policy.
Hotel cancellation will be Free before 15 days of check-in.
Cancellations or changes made 48 hours before arrival are subject to 1 night room charge and tax penalty.
Price shown includes all taxes and fees.
Additional Information
Check-in at hotel starts from 14:00 hrs.
Check-out time is until 12:00 hrs.
Early check-in or late check-out is subject to availability and may be chargeable by the hotel.
Once your payment has been processed, we will send you an email confirmation.
You will receive all travel vouchers required for your flights and accommodation shortly afterwards.