→
→
→
Kashmir & Ladakh Tour (09 Nights / 10 Days)
Kashmir & Ladakh Tour (09 Nights / 10 Days)
3N

Srinagar ,

1N

Kargil ,

1N

Leh ,

1N

Nubra Valley and

1N

Leh
What's Included
Car Details
Road transport from Leh - Non AC SUV
Hotel Details
Hotel options available in the package
| Destination | Nights | Hotel and Room | Meals |
| --- | --- | --- | --- |
| Srinagar | 3 night(s) | Standard Room | Room only |
| Kargil | 1 night(s) | Standard Room | Room only |
| Leh | 1 night(s) | Standard Room | Room only |
| Nubra Valley | 1 night(s) | Standard Room | Room only |
| Leh | 1 night(s) | Standard Room | Room only |
Select Departure Airport:
Prices shown include two way flights, stay and all taxes
* Prices mentioned are for per person on twin sharing basis (minimum 2 people staying together)
Day Wise Itinerary
Package Which will cover Major Places like Srinagar,Gulmarg, Kargil Leh, Monasteries, Nubra Valley & Pangong Lake
Here is how you will spend your time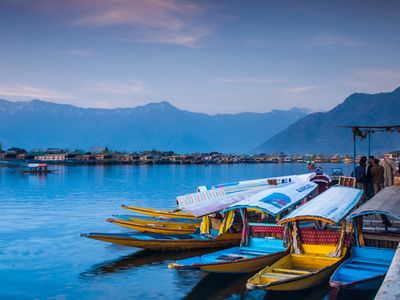 Day 1: Arrive Srinagar
Upon Arrival at Srinagar Airport you will be met by our representative and transfer to Hotel or Houseboat for Check in. In the afternoon you take a shikara ride on Dal Lake, where you visit the floating vegetable gardens & Open Dal Lake. While riding the Shikara's there are plenty of opportunities for bird watching with plentiful species including Kingfisher, Little Bittern, Common Pariah Kites, Grebe etc. Dinner and overnight in Hotel or Houseboat.
Things to see and do
Dal Lake is a world of its own. It is in fact the most charming aspects of Srinagar.There are many small islands that looked as if they were floating in the lake. There are ...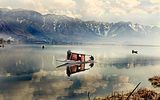 Dal Lake which has the length of 8 Km long and a width of 4 Km, spreads over a total of 26 Sq. Km. The fascinating Dal Lake is divided into two smaller ones the Lokut (small) ...
Shikara ride in Srinagar is one of the most unique experiences and don't forget to enjoy a beautiful ride when you are here.If you want a better view and a peaceful ride in an...
$ 2 Average Cost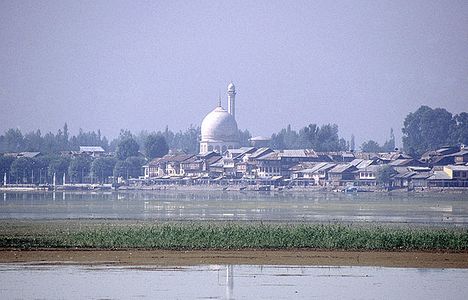 Day 2: Srinagar (Local Sightseeing)
After an early breakfast we take a morning tour of Shankaracharya Temple, It is believed that it was the place where the great philosopher and saint Shankaracharya stayed when he visited Kashmir ten centuries ago to revive Sanatan Dharma. The original ceiling was dome- shaped and the brick roof is not more than a century old. And later proceed further to Hazratbal Mosque, Situated in a village on the western shores of the Dal Lake opposite Nishat Bagh, it is a pristine white marble edifice casting its reflection in the waters of the lake. Unlike the other mosques in Srinagar, which have a pagoda like roof, Hazratbal is the only mosque to have a domed roof mosque in Srinagar; the others having distinct pagoda like roofs Gardens &Jama Masjid, Situated in the heart of the old city of Srinagar, this huge mosque is visited by thousands of people who congregate here for the Friday prayers. After visiting above places we drive back to hotel or houseboat.
Later in the afternoon we take a sightseeing tour of Mughal Gardens starting our visit to Nishat Bagh (The garden of pleasure) and Shalimar Bagh (Abode of love). After visiting above gardens we drive back to Hotel or Houseboat. Dinner & Overnight at Hotel or Houseboat.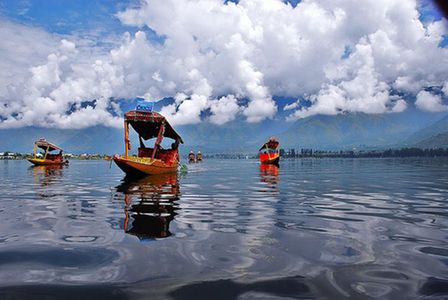 Day 3: Srinagar (Excursion To Gulmarg) – 54 Kms / 1 & Half Hour One Way
After Breakfast Leave House Boat / Hotel and proceed for full day excursion trip to Gulmarg (8,825 Ft.) "Meadow of Flowers". Gulmarg has a Very famous Golf Course during Summer (Which is one of the highest 18- hole Golf Course in the World) And Ski resort during Winter .One can have Gondola Ride (Cable Car on their own). Return back to Srinagar for dinner & overnight in Hotel or House Boat.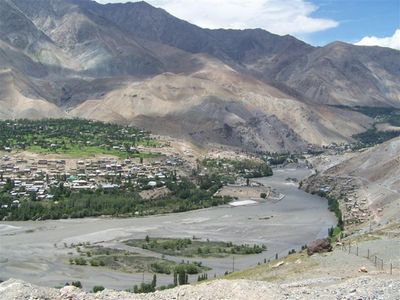 Day 4: Srinagar To Kargil (Via Sonmarg) – 204 Kms / 6 To 7 Hour One Way .
Post breakfast we drive to Leh via Sonmarg, One of the most beautiful drive from Srinagar. In Sonmarg one can take a pony ride (at your own cost) to Thajiwas Glacier where snow remains round the year. Upon arrival in Kargil we check in at our hotel for overnight stay.
Travel from Srinagar to Kargil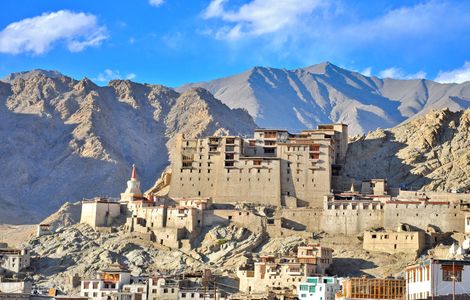 Day 5: Kargil To Leh (Via Lamayuru)
Post breakfast we drive to Leh enroute visiting Lamayuru, Belongs to Dripung Kagyu (Red Hat). Then we drive and cross the River Indus and reach Alchi, Ladakh's most loved monastery. Further we drive to Likir, Likir gompa situated atop a windy cliff top overlooking the beautiful village of Likir and Confluence of The Indus And Zanskar River just after 4 from Nimmu and further to Magnetic Hill which defies the law of gravity. It has been noticed that when a vehicle is parked on neutral gear on this metallic road the vehicle slides up and Gurudwara Pathar Sahib Nestled deep in the Himalayas, which was built by the Lamas of Leh in 1517 to commemorate the visit of Guru Nanak Dev. Upon arrival in Leh you will met by our representative and check in at our hotel for overnight stay
Things to see and do
Travel from Kargil to Leh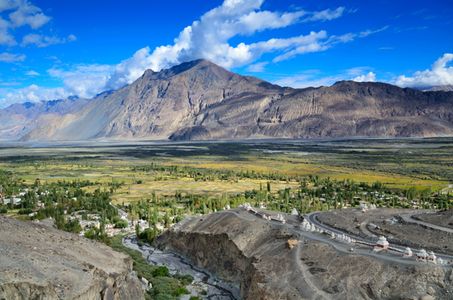 Day 6: Leh–nubra Valley Via Khardung La 18,390 Ft. (120 Kms / 4 – 5 Hrs)
Post breakfast we drive to Nubra Valley. The road journey from Leh to Nubra Valley passes over Khardung La (The Highest Motorable Road In The World) at 5,602 Mtrs / 18,390 Ft, around 39 km from Leh. From the pass, one can see all the way south over the Indus valley to seemingly endless peaks and ridges of the Zanskar range, and north to the giants of the Saser massif. Nubra Valley is popularly known as Ldumra or the valley of flowers. It is situated in the north of Ladakh between the Karakoram and Ladakh ranges of the Himalayas. The average altitude of the valley is 10,000 Ft. above sea level.
Upon arrival in Nubra we check in at our Camp / Hotel in Hunder for Overnight stay. In the evening you can walk around the tiny villages to see how the locals live in this part of the world. A visit to a Ladakhi home can be arranged. Dinner and overnight at the Camp.
Things to see and do
Gateway to the Nubra Valley, Khardungla Pass is located at a height of 5,359 meters and is the highest motorable pass in India. Opened in 1988, Khardungla Pass is a Mecca for ...
$ 0 Average Cost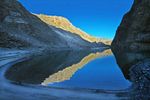 Zanskar valley is considered as one of the most adventurous and a fascinating one. Zanskar can be reached by r oad and by trek in summer. If you go by road, it takes two ...
Travel from Leh to Nubra Valley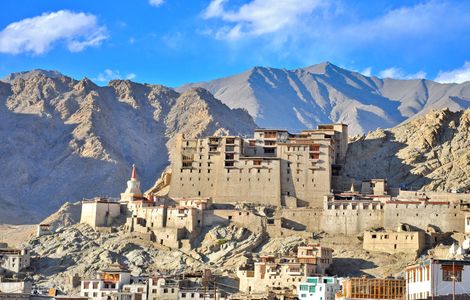 Day 7: Nubra Valley – Leh (120 Kms / 4 – 5 Hrs)
After an early breakfast we check out from the Camp and drive to Hunder where you have opportunity to ride on a bacterian camel (double humped) amidst the sand dunes of this high altitude desert with snow capped mountains on the horizon. Between Hunder and Diskit you come across sand dunes besides the road. Seen in isolation you could well be amongst the sand dunes of the Thar Desert in Rajasthan. It is indeed a strange sight since immediately on the left of the road are rocky mountains that characterize the Ladakhi landscape and in the distance can be seen snow-capped mountains. On the return stop at Diskit which is the headquarter town of Nubra Valley. Stroll around the bazaar observing the shops and local people going about their daily chores. Diskit is famous for 515 years old Buddhist Monastery, lying magnificently situated on a hilltop, facing the entire Valley.
Later we drive back to Leh in the late afternoon via Khardungla Top. On arrival at Leh you will check in to your Hotel. In the afternoon you can rest and relax.
Things to see and do
Diskit in Ladakh region of Jammu and Kashmir is famous for its 14th century monastery, believed to be the largest and oldest monastery in Nubra valley. Diskit is situated at ...

Khardung La (Khardung Pass, la means pass in Tibetan) is a high mountain pass located in Ladakh region of the Indian state of Jammu and Kashmir.The pass on the Ladakh Range ...
Travel from Nubra Valley to Leh
Hotels Included
New Alexandra Group of Houseboats (4 star)
Dal Lake, Opp. Hotel Boulevard - 190001, Srinagar Houseboat
Kargil Retreat
Main Bazar, Kargil, Jammu And Kashmir 194109, Kargil
Noble House (3 star)
Fort Road - 194101, Leh
Nubra Ethnic Camp (3 star)
Nubra Ethinic Camp, Village Hunder, Ladakh Leh Ladakh 194101, Nubra Valley
Noble House (3 star)
Fort Road - 194101, Leh
Cancellation Policy
The package once booked is refundable and cancellable.
Flight cancellation will be as per airline cancellation policy.
Date of booking to 30 days before travel the cancellation charges will be 10% of the tour cost
30 to 15 days before travel - cancellation charges will be 50% of the tour cost
15 to 7 days before travel - cancellation charges will be 75% of the tour cost
0 to 7 days before travel - cancellation charges will be 100% of the tour cost. No refund shall be given
Please note cancellation policy is subject to change. It depends on the hotel policy. In peak season, some hotels may charge 100% cancellation.
Additional Information
Check-in at hotel starts from 14:00 hrs.
Check-out time is until 12:00 hrs.
Early check-in or late check-out is subject to availability and may be chargeable by the hotel.
Once your payment has been processed, we will send you an email confirmation.
You will receive all travel vouchers required for your flights and accommodation shortly afterwards.