Fun Things to Do at Night in Singapore
Here's a list of Fun Things to Do at Night in Singapore recommended by our experts:
Whether you're a culture and history buff, nature lover or adventure seeker, Singapore has a wide selection of leisure options and fun tourist attractions for a memorable holiday with your buddies. All of the best things to see and do in Singapore are within easy reach. Singapore is a curious tale of a once sleepy fishing village that defied all odds to transform itself into the first-world metropolis it is today. The city of contrasts may be the most expensive city in the world, but it is also home to plenty of exciting tourist attractions, eclectic and unique budget shops, incredible street food, and dozens of free parks. Choosing the best things to do in the Garden City of Singapore is no easy feat as the city has a vast number of impressive attractions and exciting activities. For breath-taking views of the iconic Singapore skyline, head to the nearby Marina Bay Sands SkyPark and Singapore Flyer. Would you dare your way over to Clarke Quay along Singapore River dressed to the nines? Take a stroll along Clarke Quay at night – this historical riverside quay has an electric party atmosphere. Dotted all around with some of the city's most picturesque restaurants, bars, and fun entertainment venues where you can practice your karaoke, Clarke Quay is unmissable at night time when in Singapore. Gardens By The Bay is a huge garden in the city located at the heart of Marina Bay. It is a truly unique experience to have as the sun starts to set on the horizon. It occupies 101ha and comprises three waterfront gardens - Bay South, Bay East and Bay Central. Don't miss the Singapore Night Safari, one of Singapore's top family attractions, located next to the Singapore Zoo. You'll explore the jungle park on an open-air tram and catch sight of nocturnal animals in authentically created habitats. Here is a definitive list of the fun things to do at night in Singapore.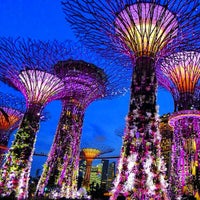 Garden/Botanical Garden in Singapore
Gardens by the bay is the Singapore newest attraction in 2012, is a huge garden in the city located at the heart of Marina Bay. It occupies 101ha and comprises ...

Shopping Place in Singapore
Spanning almost 2.2 km, Orchard Road is a swanky, tree-lined one-way boulevard flanked by distinctive shopping malls and hotels.The shopping belt comprises ...
Singapore Holiday Packages on Sale