Great places to enjoy traditional food in Singapore
Here's a list of Great places to enjoy traditional food in Singapore recommended by our experts:
Food isn't taken lightly in Singapore. Singapore is the food capital of Asia. It's no secret, in fact, that food is a national pastime and obsession here – mentioned frequently in Singaporean literature. A melting pot of Chinese, Malay and Indian cultures, Singaporean cuisine reflects this ethnic diversity in many (highly delicious) ways and has attracted food lovers for long. History tells us about Singapore as a seaport with a large immigrant population. Some of the other Influences include cuisines that derive from Indonesian, Thai, Middle Eastern, Peranakan and Eurasian traditions. This country is one of the richest in Southeast Asia, oozing luxury, sophistication and modernity. This does not mean, however, that you can't find affordable and delicious food in Singapore. Traditional Cantonese and Singaporean cuisine is a still a crowd favourite. Locals and people from different communities often interact with and eat together. Food is a unifying thread in Singapore and it explains the cheap street food flourish since the 1800s, when Singapore started to really thrive. Singapore's famed chili crabs and other tasty crustaceans tend to come with a hefty price tag at many of the restaurants, however, and so they tend to be avoided by visitors on a tight budget. Traditional and lip smacking Hainanese Chicken, chicken rice, kaya toast, char kway teow, bak chor mee, and a vibrant plethora of delicious hawker street fare are your bet for the best value-for-money meals in Singapore. Discover the many innovative local dishes found everywhere from hawker stands to upscale restaurants. Chinatown Food Street creates the perfect backdrop for a keepsake photograph and is also a great place for families to chat over a meal of barbecued seafood. The more popular dishes here include fishball noodles and Char Kway Teow (a noodle dish fried with fresh cockles. Whet your appetite with a classic, mouth-watering Singaporean meal at any of these restaurants:
Restaurant in Singapore
Tong Heng, 285 South Bridge Road . Chinese bakery famed for its freshly-baked egg tarts ($1), best washed down with a bottle of water chestnut juice. Tong Heng ...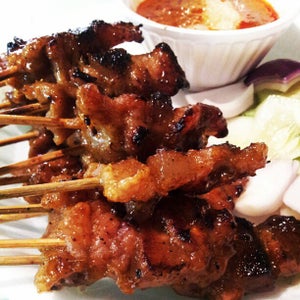 Restaurant in Singapore
One of the best Hainanese-style satays in Singapore. Chuan Kee Satay sells authentic Hainanese satays, meaning pork satays served with a peanut gravy that comes...
Singapore Holiday Packages on Sale