Best Pet Friendly Hotels in Singapore
Here's a list of Best Pet Friendly Hotels in Singapore recommended by our experts:
Singapore proudly showcases to the world the best of Asia as a travel hotspot. Spend quality time with your furry friends on your holiday! The remarkable hotels and resorts of Singapore offer tourists the perfect mix of luxury and comfort, and many cozy options for pet lovers unwilling to leave their fur babies behind.The city continues to consolidate its identity, just as different cultures and cuisines exist and thrive side by side with each other. The best hotels in Singapore are located in close proximity to its best attractions in neighbourhoods including Downtown Singapore, Clifford Pier, pulsating nightlife hub Clarke Quay, Sentosa Island, Marina Bay and on the Singapore River. The best value stays on your Singapore holiday are those with stunning views, spa, private pool and many other luxurious amenities! The city is home to some of the most extravagant hotels, but there are also many great budget accommodation options like well-located homestays, boutique hotels, backpacker hostels, guesthouses, holiday homes, and villas. The best hotels in Singapore range from opulent five or seven star hotels & beach resorts, to highly rated budget options located in the heart of the city – perfect for families looking to be near the best of what Singapore has to offer by way of attractions, dining and nightlife. For an escape from the hustle and bustle, take the cable car to the sandy beaches of Sentosa, an island south of city centre. This is also where Universal Studios Singapore is located – a magical theme park and everybody's favourite. The top luxury hotels in Singapore include the best for Michelin-starred restaurants, panoramic and stunning city views, rooftop pools, indulgent spas, opulent rooms, tennis courts and those decadent afternoon teas. At Sofitel Singapore Sentosa Resort & Spa, the villas have private pools. Le Bar is the place to go to for French-inspired afternoon tea and lunchtime sushi and satay. Handpicked by our team of experts, these are best pet friendly hotels in Singapore, and they offer unrivalled comfort and superb service.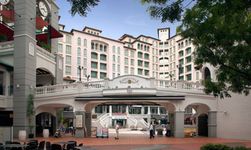 11 Unity Street - 237995,
Singapore
rtson Walk, Singapore is located in Singapore's Robertson Quay neighborhood, close to Robertson Walk, Peranakan Museum, and National Museum of Singapore. Nearby...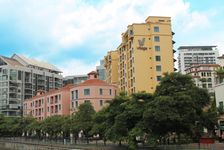 30 Robertson Quay - 238251,
Singapore
Located on the banks of the Singapore River at the trendy Robertson Quay, Village Residence Robertson Quay is within walking distance to a wide range of dining ...
Singapore Holiday Packages on Sale