Bang Neaw Shrine : 網寮斗母宮,
Baan Bang Neaw (Phuket Rd.) , Mueang Phuket , Phuket 83000,
About
The Bang Neow Shrine (also spelled Bang Niew), known also as Tao Buang Keng and Thep Rasi Foundation Shrine, is another beautiful place of worship in Phuket Town. Founded in 1904, it was originally part of another shrine at Soi Romanee in the Old Town. It has moved a few times - strangely enough always because of fire.
If looking in from the road, you'll notice that the shrine is unusually long and has many doors. This is because it houses many shrines (almost 10 of them) that lie immediately next to each other. The most important shrine is the one in the middle, where the main deity is.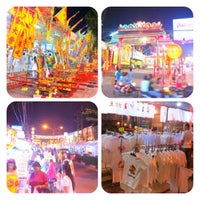 2 wishlists