Basilica Di San Marco
San Marco 328 30124 Venezia - Italy
Phone: (+39) 041 2708311
http://www.basilicasanmarco.it/
About
Basilica Di San Marco is a Historic Sites, with Architectural Buildings,Churche and History Museum.

The church's Treasure is kept in the ancient rooms between the church and the ducal palace, accessed by means of a door in the south transept embellished with a 13th century mosaic which, in memory of the fire of 1231, depicts two angels bearing the reliquary of the Cross, miraculously left intact.
The small vestibule leads, on the left, to the sanctuary and, on the right, to the actual Treasure. In eight niches in the sanctuary walls there are numerous precious reliquaries containing the relics of saints that were gathered from Constantinople to the Holy Land and from places outside the eastern Mediterranean basin. The Treasure consists of an overall 283 pieces in gold, silver, glass and other precious materials.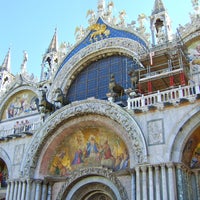 41 wishlists