เมืองจำลอง (Mini Siam)
Bang Lamung District, Chon Buri, Thailand.
About
Mini Siam had been started to research the project in 1985, and had been constructed in 1986 with more 29 Rais which separated to be Mini Siam, and Mini Europe. For the rest area, there are the Booking Halls, the Souvenir Shops for lease, and the Parking Lots. The Democracy Monument in Bangkok was the first model to build.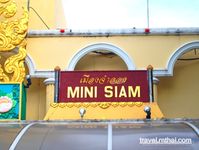 1 wishlists