Jim Corbett National Park
Ramnagar, Nainital, Uttaranchal, 244715
Phone: 97 17 327225
www.corbett-national-park.co.in
About
The Jim Corbett National Park is a heaven for the adventure seeker and wildlife adventure lovers and one can sit in or can go jeep Safari or Elephant ride for a life thrilling encounter with the Lord of the Jungle - Tiger. Corbett National Park is India's first national park which comprises 520.8 km2.
The Corbett National Park harbour some of the exotic species of our wildlife. Snow leopards, thars, bharals, brown & himalayan black bears, serows, tigers, leopards, elephants and an immense variety of avaian species inhabit the preservation zones, like the sancturies & national parks, or open forests dotting the countryside.
This is one of the richest areas for the typical big mammals of northern India, renamed after Jim Corbett the famous hunter, author and pioneer conservationist who helped set up this wildlife sanctuary.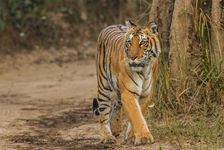 1 wishlists