Kathu Shrine : 內杍斗母宮
37/1 Moo 4 Baan Kathu (Wichita Songkram Rd.) , Kathu , Phuket 83120,
About
Kathu Shrine has shared a long history with Phuket's Vegetarian Festival and is known as the original home of the festival. Rumor has it that a Chinese opera from mainland China came to town and without any particular reasons, members of this group started to fall ill. After a while they realised that they had forgotten to carry on with their important traditional vegetarian diet.
Finally, they held a vegetarian diet ceremony at their temporary opera house at Kathu and within no time all the sickness and problems amazingly disappeared. Locals couldn't believe their eyes when witnessing what had happened. They too participated in the ceremony and have been carrying it on until today. This is the roots of the great annual Vegetarian Festival that Phuket is known for.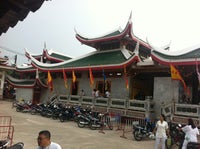 1 wishlists