Kota Kinabalu City Waterfront Boardwalk
Jalan Tuan Fuad Stephens, Kota Kinabalu, Sabah 88000
Phone: +60 88-215 128
http://kkcwaterfront.com.my/waterfront-boardwalk.html
About
The KKCW Boardwalk is slated as a world class development on par with the best boardwalks and lifestyle centers. It is envisioned to offer a new and vibrant urban street-space atmosphere in the heart of Kota Kinabalu. The Kota Kinabalu City Waterfront is a shopping center and commercial development that combines the traditional retail functions of a shopping mall with leisure amenities catered towards upscale consumers and tourists. It is designed to be a 'unique urban village' - a vibrant place where community takes shape and public life happens.
The purpose-built 2.1km Boardwalk, stretching from Anjung Senja at one end to the Hyatt Regency at the other, completes this star attraction Relentless effort and resources have been channeled into the design and management of the Boardwalk to maximize crowd retention and sustain this new lifestyle-retail DNA.
THE BEST PLACE TO VIEW THE SUNSET IN KOTA KINABALU
Imagine, watching a jazz singer drawing an audience, serenading to passing onlookers amidst a fresh breeze overlooking a spectacular sunset. The entire boardwalk will feature an urban maze with arches that decorate the marketplace with restaurants and stores lining an outdoor pedestrian street that opens up onto a series of little plazas.
The type of place one would delight the palate with a cappuccino.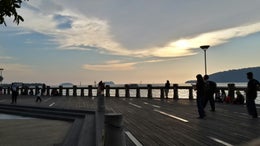 28 wishlists