Mangrove Tour Langkawi
Kilim, Langkawi 07000, Malaysia
Phone: +60 12 578 5408
About
Langkawi Mangrove Tours - Langkawi offers some truly unforgettable sights and experiences on this tour to the Kilim Nature Park; an escape to another world. Spread over an area of 100 sq km, the Kilim Nature Park features a beautiful mix of well-protected green mangrove forests, isolated white beaches and blue lagoons. As you cruise down the calm, winding river, you will observe the wonders of the park's marine ecosystem, its flora and fauna and the natural inhabitants such as the over-hanging 'Bogak Trees', Brown Eagles, Tree Crabs, Monitor Lizards and Macaques.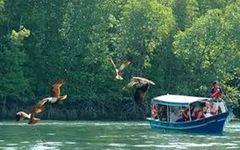 Expert Review
Mangrove Tour Langkawi

"This was an excellent days' tour around the mangroves and some islands of Langkawi, It is an amazing part of the world We saw monkeys, snakes and eagles from the boat. The snake was hanging from a branch and we got right up beside it.I just love the awesome natural view of all the places.And I would thoroughly recommend this tour.and don not forget to bring swim wear,towels and also do not Miss to carry Camera."
- By
Priti Kumari
,
30 Mar 2013