Oshin Japanese Takeaway
1st Floor Koala House 256 Adelaide Street, Brisbane QLD 4000, Australia
Phone: +61 7 3229 0410
Average Price: US$ 17 per person
Cuisines: Japanese
Features: Dinner, Lunch
http://www.oshincity.com.au/
About
Oshin Japanese Restaurant is a locally famed Japanese restaurant in Brisbane City; renowned for its fantastic sushi, colourful sashimi, sizzling bbq-style dishes & other traditional meals.
Embark on the ultimate Japanese dining adventure; be entertained by the flamboyance and creative flair of their highly experienced Japanese Chef & staff in traditional costumes, offering impeccable service.

Owners Gary and Stacey Goh have created a tranquil haven with traditional Japanese décor, where diners can enjoy the 'Zen like' ambience in Brisbane city.
Lunch Timings : (Mon to Fri) 11:30 hrs to 15 : 00 hrs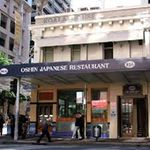 1 wishlists