Skyye
Skyye, Uber level, Canberra Block, UB City, 24, Vittal Mallya Road, Bangalore - 560001.
Phone: +91 - 9900343204 / 080 4909 0000
Average Price: $ 15 per person
Cuisines: Authentic Local
Features: Multicuisine, Alcohol Available, Dining With A View, Must Visit
http://www.skyye.in/
About
Skyye brings the world to your doorstep with global cuisines to excite your taste buds like never before. Choose a style and you will find offerings from pan-Asia, Europe, South America & the Middle East to appeal to your mood of the moment. Skyye has an Uber selection for you to choose from. You will find super cocktails dreamt up by our Bar Team that we call SkyyeOvations. At Skyye, you will find top shelf choices in liquor from around the world Single Malts, Scotch Whiskies, Vodka, Gin, Wines, Beer and Cocktails- whether classic favorites or Skyye specials. Skyye Signature cocktails are on offer in two exciting ranges - "Skyye-o-Tinis" and "Long Night Skyye" which are made out of innovative combinations of liquors, liqueurs, herbs, fruits and juices.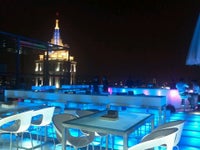 8 wishlists