KK Waterfront
Jalan Tuan Fuad Stephens, Kota Kinabalu, Sabah 88000
Phone: +60 88-215 128
http://kkcwaterfront.com.my/
About
Kota Kinabalu City Waterfront is an integrated waterfront revitalization master plan that is an important element of the Sabah Development Corridor's (SDC) blueprint to transform Kota Kinabalu (KK) City into a premium tourist gateway and a premier second home destination for the affluent.
Much like other world-renowned waterfronts, KKCW is designed to offer luxurious shopping amenities and opulent lifestyle events amidst a resort-like living experience. Comprising an up-market lifestyle Waterfront Mall, a 365-room super luxurious Waterfront Hotel and 111 units of designer suites, KKCW will be significant in forming a golden tourism belt along the city's waterfront.
The entire development will be linked by a 2.1km Waterfront Boardwalk, one of the longest of its kind in Asia, to convert the KK seascape into a symbol of a new international lifestyle.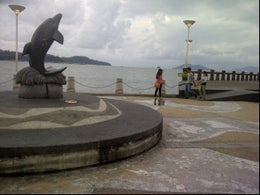 58 wishlists