Kuala Lumpur Bird Park
No. 920 Jalan Lembah Taman Tasik Perdana
Phone: 604-2272-1010
Average Price: $ 12 per person
http://www.klbirdpark.com
About
Located in the serene and scenic Lake Gardens (Taman Tasik Perdana), the Kuala Lumpur Bird Park is a bird sanctuary and tropical paradise for nature lovers and over 160 species of birds. Spanning three hectares of verdant valley terrain, it is one of the largest parks in Southeast Asia.

Featuring thousands of birds representing nearly every major species of this region, the park is also a haven for varied plants with lush foliage. Stroll through the maze of walkways and break for a scenic picnic amidst the greenery at rest stops scattered throughout the park.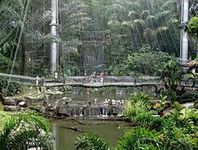 Expert Review
Kuala Lumpur Bird Park

"The bird park is definitely a must see place in Kuala lumpur, variety of beautiful and colorful birds.Its a great place to spend time with your family and kids.The tickets were bit pricey but worth it."
- By
Lalitha
,
27 Aug 2013
35 wishlists