Nishan Choubey review by Nilesh Gokhale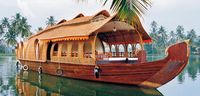 Really well organised and well planned. Thanks to The Trip Factory staff specially Nasreen and Nishan for providing proper information on time to time basis.
The accommodation provided at Munnar (Black Forest) was not that much good and was too much away from the main city.
The accommodation at Kumarkom (Soma Kerala Palace) was elegant.
The facility for local conveyance was really nice.
Hope for a good deal for near future tours.