Vaisakh V Lal review by Jayesh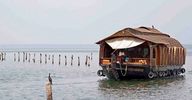 I booked 9 days Kerala Trip by Trip Factory with my Family at our Diwali Holidays. Trip Factory and Specially Vaisakh V Lal (Destination Tour) planned our Trip very well. All Hotel's rooms,location & foods are so good.Our diver Shanavas was't driver but our special friend.He saw us maximum sightseens in minimum time and guided us all trip and all places. He is also all knowledge of about Kerala and very human and kind person. His Innova car condition also excellent.
I will suggest my friends to book Kerala Trip by Trip Factory in future because Trip Factory gave me very reasonable trip cost,excellent facilities and services too.
Again We specially thanks to Vaisakh & our new best friend Shanavas for made our Kerala Trip memorable!