Anish Kumar P review by Chaitanya Date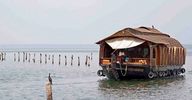 Thanks Anish!
Your personal dedication in planning resulted in a perfect HM for us.

All things were nicely set up and trip went very smoothly.

Ratheesh, who escorted us during entire tour, was very polite, punctual and well knowledged.

Overall it was an dream come true tour.

Continue the good work.

With best wishes and regards.

--- Chaitanya n Apeksha.