Taha Khanum review by Ganesan Nj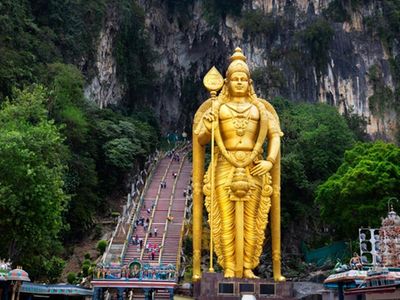 Ref : our trip dt. 23rd may to 28th May 2018
(Singapore & Malaysia Trip with my spouse, daughter and Son ) Trip ID .. TFN0019BRKT

Reference above subject, please note our feedback on our trip.
The package trip was very good and we enjoyed. The whatsup group created was also helpful in the last minute confusion of VISA. Where in all were trying to coordinate and help us communicating. This is a great initiation from trip factory. Whats up group was really helpful.

A small thing made us unhappy that we were supposed to travel on 22nd but unfortunately due to delay in visa we were made to travel next day 23rd and on our request one of the program (Night Safari) of that particular day was combined with other day. We were promptly following it up by making several phone calls to your office on our visa, but sorry to tell that there was very poor response from the trip coordinator (account Manager) and your Visa team. Few days nearing our trip she stopped responding to our phone calls. She will never pickup. And on the day of travel also we they were giving false assurance that visa is already arrived and will handover at Bangalore airport at 5 PM wherein my visa was still pending with Singapore embassy at Chennai. We reached airport and was panic as time for check in was already late and my wife and children who were actually travelling for the first time to international were all disappointed. They arranged our stay in hotel Taj for the day and next day we received my visa around 7 PM and the flight time was at 9 PM. There was a lack of coordination between your account manager and Visa team, hence this confusion. Please be sure in future to get the required ticket/Visa before anybody travels and hand over the same to travelers on time before they leave from their respective location/city. Requesting all the Travelers, please check your Visa/Tickets/Itinerary/ Contact details in other countries etc before your travel. International roaming is very important, please arrange for the same or get your local sim in that particular country, this will help you to co-ordinate with Trip factory team in case of any issue and emergency.

The second thing the same story we did not get Malaysian visa while we leave from Bangalore and we had remind you people on the same before our travel to Malaysia from Singapore. Next day was our travel to Malaysia from Singapore and we received visa via whats up / email late night. We had to request the hotel team to arrange the printout of the same. Again last minute tension.