Shiva Kumar C review by Bhumika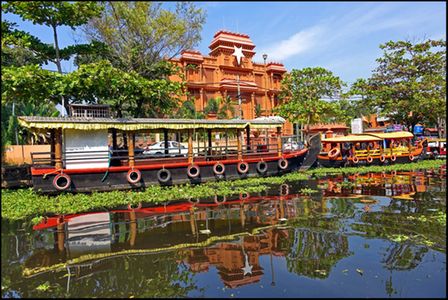 TripFactory really have well designed packages. Even if you don't have any idea about where to go and what to do, it is the best website to search for.
We have booked kerala holiday almost 2.5 months back from TripFactory. Location included was Kochi, Munnar, Thekkaddy, Kovalam, Alleppey.
Now, about my trip,
We decided to go with TripFactory in november and contacted from website. Surprisingly, we had to call back multiple times to assign us a trip expert. Looks like it was a weekend and they are out of staff. The response time was long to design a trip and give quotation. Also, after booking I wanted to change one of the hotels, that also took 2 long days, again after follow up. So was not really satisfied with response timing at earlier stage.
Finally, everything was set and we started on 21st jan from Pune. As other told, TripFactory representative was not there on the airport. But before 2 days of the trip we got driver details and contact number. So we contacted him,and he was there within 5 minutes.
Our driver Mr Sinu is a nice person and was a guide throughout the trip. Very punctual and calm.
In Munnar we selected hotel The Leaf, and it was highlight of the entire trip. Very nice resort with tranquil environment. Really enjoyed our stay there.
In Thekkaddy, we got Coffee Route resort and it is also a good resort to stay. Downsides are food and non AC rooms.
Thekkaddy is a very green place with spice and coffee plantation. Nothing to see here except Periyar wildlife, but very good place to relax.
Kovalam is a beach place with clean beach and with so many tourists around. Its a good place for beach lover, else can be avoided. Since it is at extreme south of the kerala,you spend more time on road.
Hotel Sea Rock is good just for the sea view from hotel, otherwise below average hotel. Not worth paying for it.
Till now, we enjoyed our trip as everything was well arranged.
Now starts the worst part of the trip - Rainbow houseboat at Alleppey.
They are the cheater organization. We booked 1 bedroom deluxe houseboat, but what the gave us was 3 bedroom houseboat, where other 2 families were staying with us. There was nothing on the boat, no water, no electricity for long hours and no maintenance. Very dirty room with cockroaches and lizards around.Food was not at all good.
On arrival, they gave excuse of some labor strike and apologize, but local contact told us there was no such condition.
On of the Sr citizen person called his agent and asked for total refund and he was agreed to do so after talking to Rainbow cruise management. I expect the same response from TripFactory also. I would say, you should black list such companies.

Overall trip was good if I keep aside frustration and anger of Alleppey. Looks like we paid some what more amount for hotels at each places, but arrangement was good.

My message to TripFactory would be, keep it up with package design teams, however need to look for customer care and other support teams.