Clinton review by Inderjeet Singh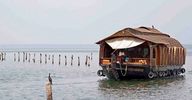 Its started with planning of my trip to kerala and search ended up at Tripfactory... With most good comminicating and in depth knowledge acquiring Clinton... Who helped me to plant the trip according to my needs with lots of iternations...

But finally ended with a good andcin depth trip of Kerala Trip planned through Trip factory and Very Special Thanks to My Trip Advisor -- Clinton..

Overall experience of the trip was excellent with all things been arranged in well order including Cab, sightseeing, meals and Specially Hotels....

Easy check in and check outs... Smooth processing... upto mark room amenities and facilities...
Best pick of hotel was @ Munnar I.e. Devonshire Greens followed by Sea Lagoon @ Cherai Beach... And others..

Special thanks to the Cab Driver Renjith... Good cab and in detailed knowledge of entire places, route and sightseeing special points.... Very polite and friendly in nature...

Overall it was a good experience at a place for first time visitors with such incredible beauty of India.. I.e. Kerala... Folding Nature beauty at its best... Comprising of Beaches, hill stations... Jungles.... Back waters...postutizing highway ever experienced on rhe way to thekkady....
Overall good and memorising experience through out in God's Own Country....