Vanita Mm review by Brahmanandam Gadipudi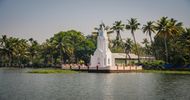 I and my wife just had a 5N 6D vacation Ex-Mumbai from 24th Aug to 29th Aug in Kerala booked through TripFactory coordinated by Vanita. Overall I must say - very good arrangements by TripFactory. Would like to list down the Good and Bad things:
A) GOOD Things:
1) They committed Swift Desire, but I see Innova at the Kochi airport and I am pleasantly surprised! As one would be mostly travelling in the vehicle, Innova is always better for sight seeing, comfort, luggage access etc.
2) Driver Saji John has been such a nice, polite, punctual, more than helping, making us comfortable always.. If only he improves on his English:-)
3) Hotel Ragamaya Resort & Spa in Munnar where we stayed 2 nights is on a hill and has been an exquisite location, breathtaking view, amazing serenity..We forgot the pains taken to locate the Resort which is about 25 Km away from Munnar..Hotel guys said the road will be completed in about a month time.. Food is ok, not so great..Trident (1N) in Kochi ofcourse is upto its standards, no complaints.. Professional..
4) Go Air - both ways has been on time and convenient timings. Got the confirmation within half an hour of making 25% payment..
5) Sight seeing - Driver and Innova has been with us at our disposal for 6 days and we could plan the sight seeing the way we want (Ofcourse Saji John has been very helpful in the planning) and it has been one of the most memorable vacation we had, seeing beautifully landscaped Tea Gardens, lush green hills & valleys, the water falls, famous Kathakali dance show, karalipayattu traditional kerala martial art fight etc Munnar..Periyar Tiger Reserve forest, boating in the reservoir, jungle jeep safari, elephant safari in cardamom plantation are the memorable ones in Thekkady..Ofcourse beautiful backwaters in Kumarakom..
6) Competetive pricing..
B) BAD things:
1) While paying the balance 75% the very next day, they tried to charge about 2% extra as non-refundable fee even for transfer through Netbanking which I thought is not fair since it was not made very clear to me in the beginning.. However Vanita facilitated waiver subsequently, but it is unnecessary, could have been avoided..
2) 'The World Backwaters' - that is the name of the resort in Kumarakom, totally disappointed.. This is an alternate hotel booked for us in lieu of Coconut Lagoon which seems to have been sold out fully due to a marriage of an MLA (?)..
Smell as soon as you enter into the room, then mosquitoes, dim lighting.. staff tried to do some thing to get rid of mosquitoes ultimately (All Out, floor mounting fan, Hit etc).. Ultimate is breakfast next day - Idli, Dosa, Vada without any chutney whatsoever, only sambhar and we are in South India..unprofessional staff.. what is happening here? Avoid and never ever again book this hotel..
3) The Elephant Court hotel in Thekkady is just average.. shower does not work properly. Informed the guy in the reception while we are going out, but not attend even after we return..

Though I was little skeptical while booking, the trip has been a fantastic one, thanks to the natural beauty offered by God's Own Country which we enjoyed a lot that the BAD things look petty and did not bother us too much..