Mohamed Arafath review by Rajanna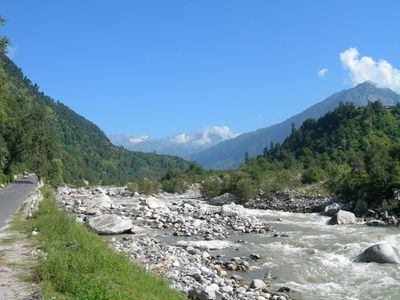 Dear Tripfactory team,

This was my first visit to Shimla & Manali and I had lot of apprehensions. Although we knew Hindi quite well, we did not know the local language of Himachal Pradesh. Every thing went as per Itinerary. It was a long drive from Chandigarh to Manali which took around 8 hours. It was not mentioned in itinerary that it would take that much time. However, The Venus cottage people had kept our pure veg food ready & served hot. In fact the lodge is around 16 Km away from main place. So you have depend on the lodge food only. we had no issues as the Car and the driver were at our disposal. Since the driver is a local guy, he knew about the area and there was no hurry. Since we were returning we cud watch some TV, but the lodge people said they can't give English news let alone Kannada programmes. Unfortunately Rohtang pass was closed for public. So we went to Solang valley. Driver dropped us at the nearest point & then we went horse riding almost till the snow point. Everything went like as per plan till the 4thmorning. There was a Taxi strike opposing Rohtang's closure. We were asked to leave at 5 am. Since there was no hotel, Lodge guy said the cook will come only at 7.30 am. We asked for some bread toast but they were helpless. Again the Lodge in Shimla Himalayan Escape is 30 KM away from city. But the view from my room was breath taking. The food was served in my room and they had more variety and was much tastier. They were very professional.

All in all we had a very enjoyable trip & definitely they were lot cheaper than others in the trade. infact people were surprised at our package rates., since airfare, lodging, taxi with driver, Break fast & dinner, only lunch was to our account. I will definitely recommend to my relatives & friends.