Best Places to Eat on a Budget in Bali
Here's a list of Best Places to Eat on a Budget in Bali recommended by our experts:
Bali is a foodie haven if you know where to look. The best restaurants in Bali range from a plethora of world-class dining venues and plenty of other dining options, from casual café brunches, great tex-mex, patisseries, local coffee and fresh seafood to authentic and cheap local fare. Regardless of your budget, it's possible to have a delicious and exciting meal every time and still afford daily cocktails! Bali also offers a wide variety of cuisines by region and level of sophistication, and they are often featured in unique locations with awe-inspiring views and artistic interiors. Bali has evolved with each wave of visitors over the years and is now truly a first-class dining destination – the worlds most innovative and talented chefs can be found here. Some of the best food in Bali sometimes can be had at surprisingly very affordable restaurants and old favourites. Secret Garden is a favorite haunt of British and Australian visitors in particular and features a homely traditional pub atmosphere. It has a street-side cocktail bar, a spacious courtyard patio and indoor pub that offer live rock music each night. There is an eclectic décor of tropical bamboo fixtures and rustic furniture with plenty of rock music memorabilia hanging from its walls. Secret Garden has a basic western menu of burgers, steaks, pastas and all-day breakfasts all well priced. There are regular happy hours in the early evening and a good range of imported European and Asian premium beers. Be sure to anticipate the most affordable, tastiest food in Bali at these restaurants:
Restaurant in Bali
Enable young people in difficulty, (re) work and gain confidence and manager or implementing a project that belongs to them or theirs; allow troubled youth to ...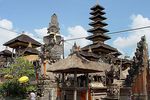 Temple in Bali
A temple is a structure reserved for religious or spiritual activities, such as prayer and sacrifice, or analogous rites.
Bali Holiday Packages on Sale